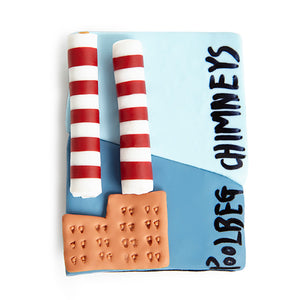 Poolbeg Chimneys Fridge Magnet
Sale price Price €5,95 Regular price €5,95
Tax included.
Love them or loathe them, the poolbeg chimneys are one of Dublins most iconic landmarks. Originally built as part of a generating station for the ESB, the chimneys were built in 1969 and 1977. They were decommissioned in 2010 and almost demolished a few years later, but the Dubs wanted their chimneys so they're here to stay for now. We love them!
Get your own mini set of chimneys, handcrafted and ready for your home. Our little chimneys are significantly smaller than the actual Poolbeg chimneys that are over 207 meters high!
The poolbeg chimneys are mounted on a magnet for use on your fridge or notice board or you can even decide to frame them.