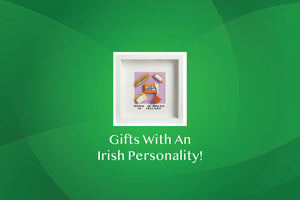 Our Range of Handmade Irish Gifts
What does being Irish mean to you?
Is it the self deprecating wit, the banter, the beautiful scenery, or anything else that you just don't get outside Ireland? Our Quirky Irish Icons capture the culture & fun of Ireland across a unique selection of of frames, magnets and gifts for you and your loved ones! They are lovingly designed and handmade by Dublin Grandma Patricia Pierce.
Quirky Hits The Shops!
Quirky Irish Icons now supply a range of gifts to fantastic locations around the country, including Christ Church Cathedral, Roe & Co Distillery, Burren Smokehouse and EPIC Museum!
Really lovely handcrafted pieces.  The details are fabulous.

Mine is now taking pride of place on my fridge!
I received my magnets today, delighted with them, love the selection you have.

Will be buying more as gifts for family and friends.
I got the beautiful Rialto magnet. Thank you so much!

The kids love it. Their other magnets are from famous places around the world. They feel good that their humble area has its own magnet.
Supported by the Local Enterprise Office.